The Corporation and the Digital Divide
by Peter Miller
On September 13, near the beginning of the post-Labor Day season, I had the opportunity to stop by the DC offices of the Corporation for National and Community Service, to meet with new Acting Director of AmeriCorps*VISTA Robert Bush and Owen Leimbach, dubbed the Corporation's Minister of Technology without Portfolio.
There were pressing matters at hand, two, to be specific, one for each of my hats. As Director of the CTC VISTA Project, funded under a three-year grant agreement in 2000, I wanted to know more clearly about steps for continuing the program after August '03. The CTC VISTA Project has been the most popular program in the whole AmeriCorps recruitment system since it went online in February 2001. By almost all program measures, it looks like a smashing success. Lots of things are up in the air, yet we don't think we should be winding down, but winding up, to build further on what we've done.
As co-editor of the Community Technology Review, I wanted to inform our readership about the fate of all the technology and digital divide efforts currently supported by "the Corporation." All of them are on the horns of a similar dilemma. On the one hand, the George W. Bush Administration has made a number of pronouncements about a diminishing digital divide and targeted for elimination two model programs, the Technology Opportunities Program (TOP) in the Department of Commerce and the CTC Program in the Department of Education. As far as the Corporation is concerned, the key initiatives and watch words these days are "entrepreneurship," "faith-based"-initiatives, and especially "Homeland Security."
On the other hand, the Administration has not so much said that the digital divide problem no longer exists as it has said it will fight the problem through programs other than TOP and CTC. The President's proposal for reauthorizing and funding the Corporation calls for a 50% increase in the number of AmeriCorps members to support, raising that alone from 50,000 to 75,000, and the Citizens Service Act of 2002 (HR4854), summarized on the Corporation's own web site, specifically asks to "authorize grants for the purpose of technology programs in the classroom, in after-school programs, and in neighborhood centers (E-Corps)." The boost the President has given to public and community service in general would seem to allow for encompassing new initiatives and continuing ones, especially those that are having major impact. Other proposals are even more expansive – the McCain-Bayh bill for universal service, "The Call to Service Act of 2001 (S1792)," calls for a five-fold increase. All these give some indication that the Corporation is one agency that can continue to be a major player in the Digital Divide arena.
Preceding the visit, a brief Google search on the terms "community," "technology," and "AmeriCorps" yielded 24,800 links (in 16.7 seconds), in curious comparison with a ten-fold increase in links when "AmeriCorps" was replaced by "VISTA," since there are something like ten times fewer VISTAs as AmeriCorps members, a distinction likely to be lost on the average citizen – and even to many of those directly in the field who benefit from and work with these Corporation programs. In any case, this is a suggestive indication of the substantial scope of these efforts.
For many years the Corporation has been supporting digital divide and technology assistance to nonprofits projects on an ad hoc basis. (The Community Technology Review has covered some of these efforts since 1994, including an overview of "A VISTA's Guide for Mobilizing Internet Resources" in 1996 and the cover feature on the Ohio Community Computing Center Network VISTAs in the spring of '97.) Towards the end of the last decade, this support intensified with series of national programs, partnerships, and RFPs, including major initiatives with HUD Neighborhood Networks, the IBM-United Way multi-city collaboration on Teaming for Technology, the national AOL/AOL-Time Warner-America's Promise collaboration through Power Up, Tech Corps, and NetDay. The April 2000 Digital Divide RFP under which the CTC VISTA Project is funded was by itself a 12.5 million dollar initiative. Compare that with this year's $12.4M for TOP and $15M for CTC for new programs and one gets some appreciation for the extent of the Corporation's commitment in this arena. It's not accidental that AmeriCorps members and VISTAs turn up so often in community technology efforts. They've been a major force in building the movement for much of the last decade.
Thus it was this context that provided the setting for our September 13 meeting in Washington. And, initially, a number of fears and uneasinesses were certainly allayed.No, Robert Bush, who is not a member of the President's family; has risen through the ranks of national and community service, having begun his career almost a decade earlier through a Southern Baptist Convention-supported project – "faith-based service" as he asked it be referred to – emergency work in Kauai and the Hawaiian Islands in the aftermath of the devastation caused by Hurricane Nicki.He came to the Capitol as a policy specialist from Oklahoma, where he had helped initiate the state's higher ed service learning programs. Bush most likely will not be Acting Director for long. In announcing his appointment in July, following the resignation of Matt Dunne, Director of AmeriCorps Rosie Mauk had said, "Robert ...is committed to making a smooth transition during all the ongoing VISTA business and our search process for a new Director." Bush underlined the transitory nature of his current position when he handed me his card which read simply "Policy Specialist," though he noted that his actual title now is "Manager of Policy, Program Development, and Partnerships." Bush played a major role in launching the Entrepreneurship program, and will likely return to this kind of work.
Along with Owen Leimbach, we reviewed some of the reactions to the President's call for the Corporation to take on a major Homeland Security role. Across much of the nation, VISTA and AmeriCorps members and alumni have expressed serious reservations since this year's State of the Union.
Following the posting of "President Bush's Proposals to Enhance National and Community Service" on January 30, the reaction was immediate. "I wouldn't imagine if we were in Texas, Arizona or California that parents would feel comfortable with their kids doing border patrol or INS-type work, or even volunteering to help with security at airports across the country," one member had written.
"While I do not question the need for increased Homeland Defense Security, nor do I want to diminish those who choose to serve their country by volunteering in the Freedom Corps, it needs to be understood that what Bush is doing is taking a respected institution like AmeriCorps and changing its focus to fit his fiscal and moral agenda," wrote another (see the VISTANet archives for January 30, 2002).
Said yet a third, "I think you've hit the nail on the head on this one, and I think that most of my Vista/Americorps colleagues will be likewise skeptical."
"HERE HERE!!!!!!!!!"
"I agree, I am also quite skeptical of how these things will play out. Kudos... for sharing your words with us so eloquently!"
These concerns are widespread. As the Associate Director of the Center for the Study of Adult Literacy at a major state university wrote on the National Literacy Advocacy (NLA) Online Discussion List in October: "Two weeks ago I visited a volunteer literacy program and heard something very scary from the executive director. For the last few years they have been utilizing VISTA workers and recently they received a letter from the VISTA office stating that if they cannot draw a link between the work being done in the literacy program and Homeland Security, the VISTA workers would need to be pulled from the organization."
Asked about these concerns, anxiety, and anger, Robert Bush and Owen Leimbach were more preoccupied by the challenge from the other end of the political spectrum. No matter how much the Administration was making over the Corporation in a new image, it was the conservatives in Congress who were least persuaded to support the Administration's reauthorization proposal. According to an analysis the previous week by David Broder in the Washington Post, "Service bill may fall victim to Election Day maneuvering," it was reported in astonishment, "... it is so stunning that the Citizen Service Act, which would reform and expand the main volunteer community programs, is being blocked by the House Republican leadership, apparently to spare a minority of hard-core conservatives from having to vote on the measure before Election Day." The analysis was reiterated in the Boston Globe editorial on "Volunteer Opportunity" at the end of the month: "This should be the year, especially because President Bush is supporting it strongly, having made service a centerpiece of his State of the Union address in January and because many Americans have shown an eagerness to contribute since the terrorist attacks a year ago... But narrow, ideological roadblocks are holding up the legislation in both branches... In the House, however, a strong bill that won unanimous committee support is being held off the floor by the Republican leadership because a few opponents don't want to vote before November....Tomorrow the City Year members will pledge 'to lead by example and be a role model to children.' Would that Congress would take the same oath."
In addition to learning about the legislation's current status, I also learned:
It does not look like there will be any new digital divide initiatives for AmeriCorps programs under the current regime at the moment. Neither Robert Bush nor Owen Leimbach knew anything at all about the "E-Corps" provisions of the Citizens Service Act of 2002. The Kennedy staffer who is shepherding the effort in committee later confessed that this is but "an allowable cost" as opposed to a program at this point.

Bush iterated that while digital divide initiatives will not have their own priorities, they will be considered under other overarching guidelines including welfare to work, financial assistance development, children and youth, and older adults and that, based on their anti-poverty outcomes, they could well continue under these broad program objectives.


As is always the case with continuing initiatives, cost-sharing/sustainability partnerships will make a key difference. Bush pointed to a series of new Teaming for Technology initiatives in another group of cities that would be announced soon, thanks to additional cost-sharing contributions by IBM.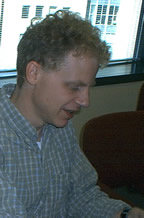 In sum, the outlook for the future is not foreclosed but it is not promising. Despite assurances that additional information would be forthcoming, the full extent of recent Corporation support for digital divide initiatives has still not been laid out, not even detailed specifics about the programs receiving funding under the April 2000 $12.5M Digital Divide RFP.No information has been forthcoming about any assessment of these programs.There has been no expressed interest forthcoming about anything involving a Corporation-supported E-Corps.
There are champions of digital divide and technology support initiatives within the Corporation. In addition to Owen Leimbach, Corporation staff like Thea Kachoris-Flores and John Zelson are long-time contributors to the VISTA electronic discussion lists about technology resources and developments. Carlos Pedraza, Forest Monsen, Susan Hillyard and others at the National Service Resource Center have a wealth of technology resources specifically targeted to Corporation programs, including the digitalconnections discussion list. Chairman of the Corporation Stephen Goldsmith, Mayor of Indianapolis during its exemplary municipal technology development, was the recipient of a Global Information Infrastructure Award in 1998 and certainly knows the impact these programs are having (in fact, he had some of the student in his Harvard class last spring assess a number of them).
Yet none of these staff or officers will be catalyzed nor will we even know the full extent of what may be lost unless more efforts are made to learn what has actually taken place and struggle to build upon their successes and learn from their challenges. The full Corporation for National and Community Service contribution may be one of the best kept secrets in our national efforts to insure individuals in poverty and those organizations striving to serve them have effective access to the basic tools of 21st century daily life, and it will stay that way and dwindle off unless efforts are made to make it visible and keep it going.
---